5 to Go, 5 to Grow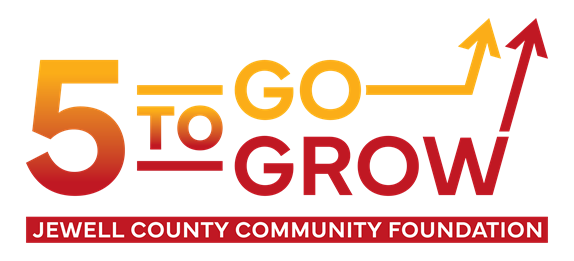 In 2023,  Jewell County saw its most successful Match Month ever, where we raised $76,524 with an additional $100,000 matched from the Dane G. Hansen Foundation. New this year, JCCF received an additional $70,000 in match funds from the Patterson Family Foundation (PFF). The PFF is based out of Kansas City, MO and is geographically focused on Kansas and western Missouri counties with populations of less than 50,000. Its funding priorities are healthcare, education, and economic opportunity.
Hansen match funds are split between JCCF's unrestricted fund and administrative fund to help those funds grow for the future. The JCCF Board decided to use the PFF gift as an opportunity for Jewell County nonprofits, or individuals interested in supporting nonprofits, to build their own capacity and a permanent source of income by opening a fund through the Foundation so they too can grow for the future. We have since named this initiative "5 To Go, 5 To Grow."
How it works: The minimum to open a fund is $10,000. The initial $5,000 to "go" comes from you, your organization, or a collective group of individuals, while the remaining $5,000 to "grow" will be matched by JCCF. Under an Organization Fund, you will have two accounts – an endowed fund that will grow over time for long term support and a non-endowed fund you will have instant access to meet your immediate needs. A Designated Fund is an endowed fund supporting a specific organization or multiple organizations.
Interested organizations or individuals will be required to fill out an application (see links below). Applications will be reviewed and selected by the JCCF Board. Please keep in mind, not all applications are guaranteed approval. Should your application be selected for approval, Kyra Lampe, JCCF Coordinator, will be in contact with you about the next steps to set up your fund.
For questions, or to learn more, please contact Kyra Lampe at (785) 378-7036 or klampe@jewellcountycf.org.
Click here to submit your Organization Fund application.
Click here to submit an Individual application. (i.e. Designated Fund)