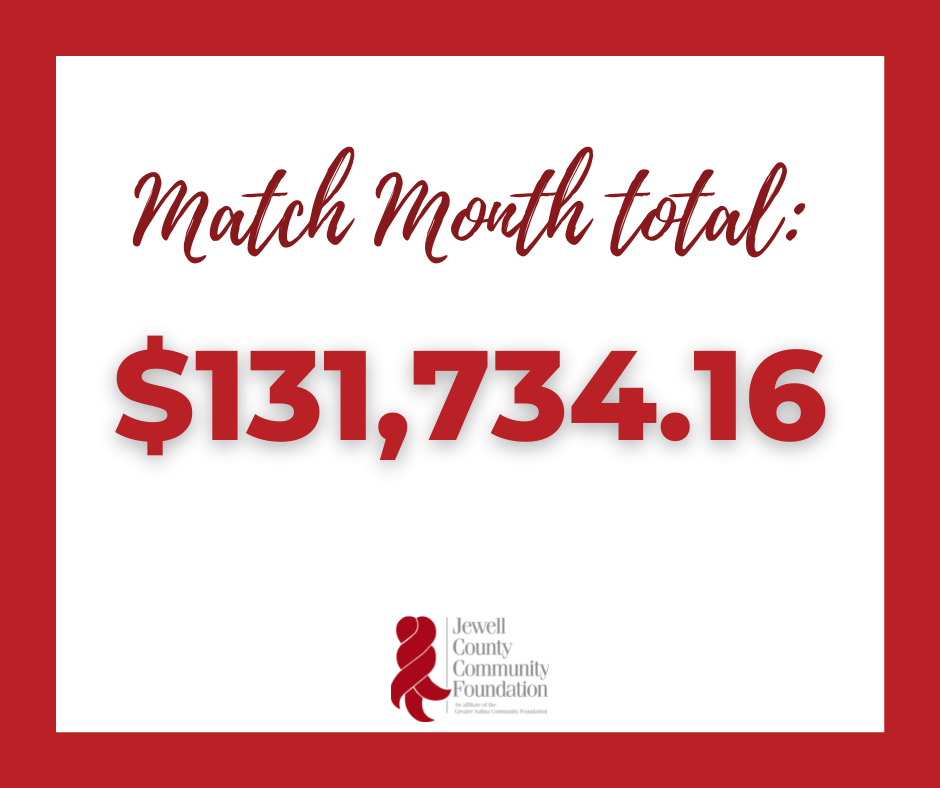 Jewell County Exceeds Match Month Goal
March 2022 was another successful Match Month for the Jewell County Community Foundation (JCCF). The Foundation received $56,775 in donations, and when matched by $1.50 to each $1 by Dane G. Hansen Foundation, the overall total is over $125,000. This money is  placed in an unrestricted fund where it is then invested. 4% is used for grants awarded to Jewell County nonprofits and municipalities. JCCF's mission is to "meet charitable community needs of the Jewell County area  through leadership, grants, and donor services." Many projects throughout the county are made possible by grant funding from the community foundation. Among these projects are the community murals in Burr Oak, Powerpro Cot for Jewell County EMS, signage and community center improvements in Jewell, and electrical upgrades to the Formoso Library.
JCCF Coordinator, Jenny Russell comments, "I'm really proud of our community for again believing in the future of Jewell County. This support helps ensure the long term sustainability of our community, and JCCF would like to thank everyone who donated."
The JCCF is comprised of board members from across the county, including Trevor Elkins–President, Neil Bouray, Ryan Cates, Jim Dooley, Susan Flinn, Lisa Goodheart, Caleb Mahin, Kenny Mizner, Kristin Mizner, Kristin Underwood, Sara Reiter, Brian Schulda, and Jenny Russell–Coordinator.
While Match Month may be over, JCCF accepts donations any time of year and donations do not have to be solely monetary. It welcomes donations of grain or land, and during harvest season, make sure to keep them in mind when taking your grain to the elevator.
For more information about the Foundation's work, please visit jewellcountycf.org or contact them at (785) 378-7036 or jccda@nckcn.com